Strategic Planning for Small Businesses ($1M to $100M)
Training, Coaching, Facilitation, and Complete Development of Plans
The Strategic Plan is the Foundation of Any Business to Make Rapid Growth Possible
Sure you can build a tiny house on a weak foundation. But if you want to build a large building or even a skyscraper that foundation must go deep from day #1. We can help your small or medium size business (SMB/SME) develop a killer strategic plan that will make your company a market leader.  And while doing it we will train your team to update this strategy as needed.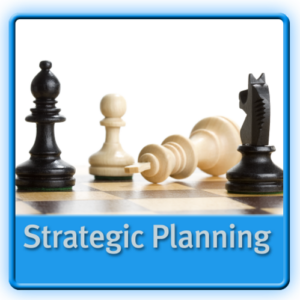 Some Benefits of Our Proprietary AirTight Strategic Planning Process
Strategic Planning aligns management thinking, taps the entire brain trust of the company to create a clear vision and goals that enhance focus, growth, profitability, revenue and market share.
Strategic Planning, done right, creates sustainable competitive advantage by aligning your team to increase corporate value creation, equity and productivity.
A good Strategic Planning System also includes a "cadence" and processes to improve communications to all levels in the organization on key priorities and integrate that plan into monthly operations. This increases productivity and morale and reduces waste, stress and friction. It creates a positive culture that the best people want to be in their entire careers.
Strategic Planning empowers managers to lead, not depend on the C-Level for every decision, growing their abilities, job fulfillment and creating a winning psychology to empower employees.
Strategic Plans create higher "differentiation" which drives better profitability, lower selling and marketing costs and a niche focus to be the best, a leader not follower, in a given market. Those extra profits then fund more innovation, get the best people and create an increasing lead in market share.
Strategic Planning improves resource allocation, projection ability and accuracy, cash-flow, budgeting and ROI through annual analysis and quarterly checkpoints to realign and adjust. It keeps everyone on task and aligned.
Strategic Planning improves the ability to attract and keep the highest quality employees and allows them to develop their careers and be tied in to long-term results and an emotional mission. This increases loyalty, tenure and productivity and allows you to get and keep the top people in your industry.
The best Strategic Plans drive innovation, as a cultural imperative, and also use the latest technologies to create sustainable competitive advantage with minimum risk and investment. In today's fast-changing world, with rapid product cycles, it is important to innovate with frugal experimentation – then rapidly scale those small, inexpensive tests that work. This requires the right culture, too.
We will not just give you a fancy plan and head for the hills. We will give you all the tools and training to connect that strategy with your daily to monthly operations and execute it successfully. Our System includes training on management best practices that drive companies to be market leaders over time.
Next Step: Call us now to set up a 30 minute professional phone discovery appointment at no cost with a Strategic Planning expert, not a salesperson. This is a free diagnosis to determine what approach is best for you. We can help you in several ways for any budget by providing a mix of consulting, coaching, training or by just providing our full AirTight Management Strategic Planning Kit.
Our highest level three-phase process diagram. We can't disclose our detailed process here for all our competitors to see but call for a more detailed roadmap showing all the dozen tools we provide to develop a winning Strategic Plan for our clients.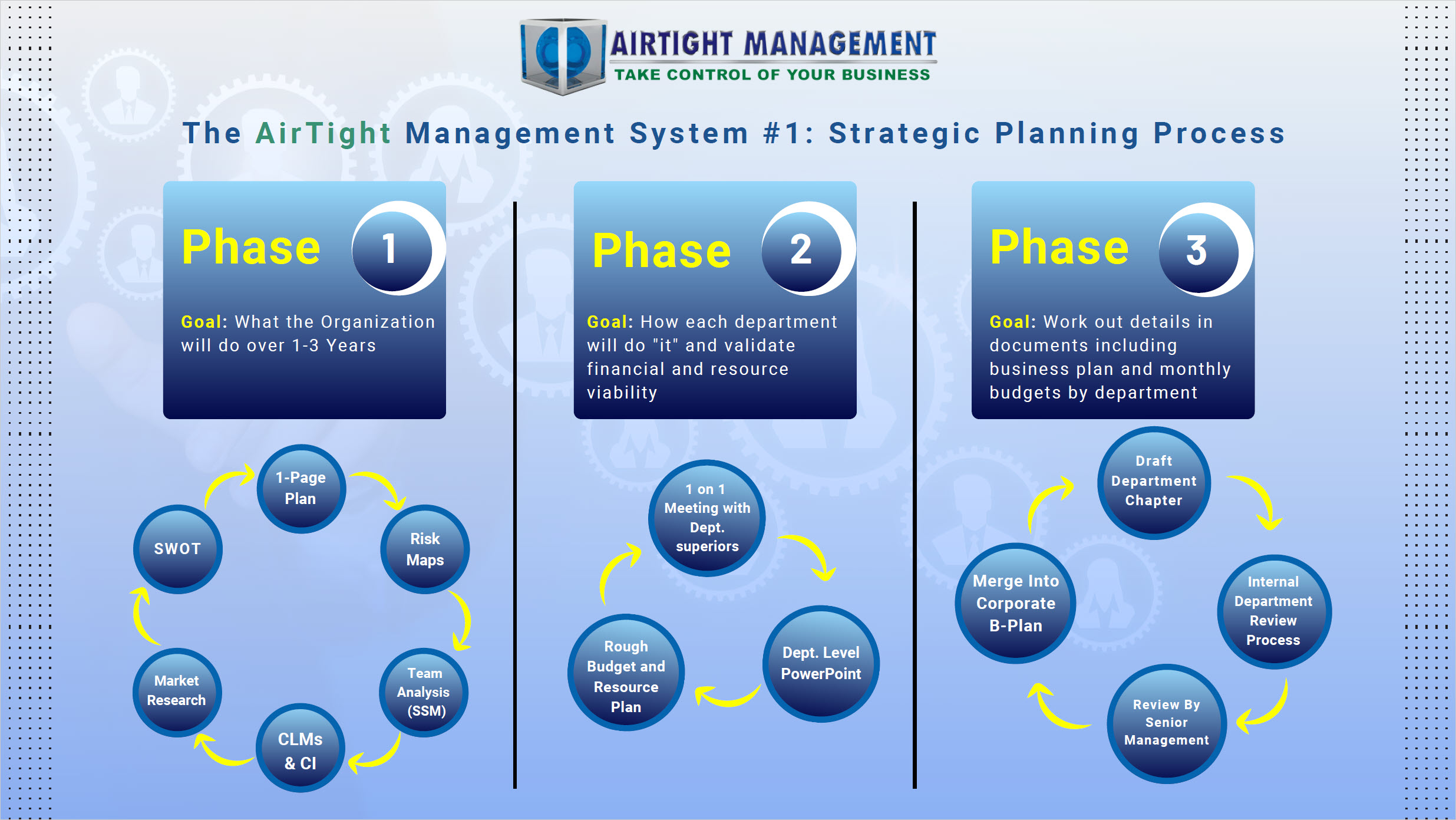 Strategic Planning Tip: Most companies are stuck in a particular model and mind set and need a business management consultant to question older ideas and drive innovative approaches to growth, new markets and new products. Strategic planning must start with a blank slate and examine all possibilities. Only by doing that do you create sustainable competitive advantage and market leadership. You must create and drive the future, not chase competitors. We guarantee you will have a very different and better Strategic Plan using us to drive innovative ideas.
Tap the Experience on What You Want to Achieve
Providing an optimum framework and process (our kit)
Providing video and audio (24/7/365) training to educate your management team and staff
Facilitating the plan's development process with the entire management team, which should be collaborative and teach them strategic thinking and execution
Coaching you through the process remotely, or on-site, (depending on your budget and other factors)
Taking full responsibility for the entire process and deliverables, which includes all of the following:
The Strategic Plan itself
The team mindset and education with a full and excited "by-in" to the mission and vision
The processes and training to execute that plan successfully.
Everything needed to communicate that plan, as appropriate, to each department and level of the organization
Our Strategic Plans have dominated and even monopolized some markets. Our business development consultant can tell you about these case studies and provide references as needed.
No one can do a better job injecting creativity, innovation and enabling technologies into a Strategic Plan given our experience developing these plans since 1989.
We can diagnose your growth limiters in a single call.
CEOs at $1M+ Companies get a free Growth Audit on this call to identify your growth limiters.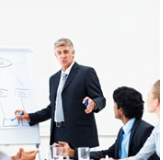 Sales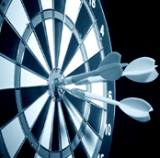 Marketing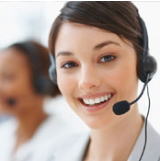 Operations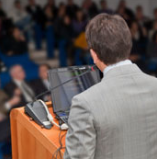 Development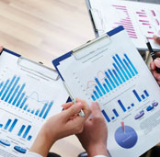 Finance